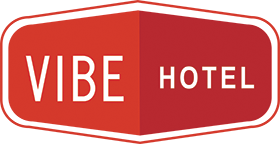 Hollywood Rates & Reservations
To make a reservation, please fill out the below form in full. We cannot process incomplete forms. Vibe Hotel online reservations must be made 1 day in advance. Shorter notice reservations should phone the front desk. An email confirmation will be sent to you when the booking is complete.
Rates are subject to change at anytime.
Weekly discounted rates must be paid in cash and in advance.
Rates are subject to fourteen percent Los Angeles City tax when applicable.
A valid VISA OR MASTERCARD CREDIT CARD IS REQUIRED to reserve or stay and the card must be in the name of the guest.
No debit credit cards for reservations, ok to pay at front desk.
The credit card is to hold the reservation and for the deposit, it will not be charged unless there is a no show or deposit problem.
Once you have paid for your accommodation there are no refunds.
Cancellations for reservations must be made more than 48 hours in advance or you will be charged a no show.
No shows are charged an administrative fee of one night plus twelve dollars.
Once you arrive you must pay before you can stay, we accept cash, traveler's checks and Visa or Mastercard for payment.
There is an administrative fee of five percent per transaction for any payment made to the hotel.
There is a discount of five percent per transaction for any cash payment made to the hotel.
There is a 14 day maximum stay within a 4 month period, no exceptions.
Check in is after 2:00 pm but if you arrive earlier we will try to check you in if the room is ready.
Check out is at 11:00 am.
If you will be arriving after 6:00 pm please confirm with us the day of your arrival.
Parking is paid, see price page for rate, it is limited and first come first serve, there is also ample street parking.
All rates are available only through this web site.
Thanks for choosing the Vibe Hotel!